---
Ear candling also known as ear coning, is a form of alternative therapy in which the coned end of a hollow ear candle is placed in a patient's ear while the other end of the candle is lit. The candle flames create heat as well as a partial vacuum, which give therapeutic properties that keep the ear drum clean and release stress by decreasing pressure inside the cranial cavity. Ear candling has also been touted as a treatment for sinus infections and as a way to improve hearing.
Benefits of Ear Candling
As well as softening ear wax and releasing pressure in the cranial cavity, the benefits of ear candling include relieving the symptoms of;
sinus problems
ear ache
glue ear
swimmers ear
some chronic headaches
ringing in the ears (tinnitus)
hearing difficulties
irritations in the ear
sore throat
allergies
Ear candling will also help to relieve pressure in the ears after flying, deep sea diving or whenever an imbalance of pressure has occurred. They also help to relax and calm, relieving symptoms of stress and anxiety.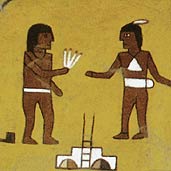 Ear Candling Did NOT Originate from North American Indians
Many people believe that ear candles originate from the Hopi Tribe of the North American Indians due to the picture to the left, that has been misinterpreted as a father passing ear candles onto his son. Regrettably, this is not the case. The picture that is normally misrepresented by ear candling companies and their users is actually a picture of a father passing down prayer sticks to his son before he embarks on his journey to seek out the snake clan people, who possessed the much sought after power to make rain.
The true origins of ear candling lies from our very own elders. For many years now, people have been sharing their stories about how their grandmother or aunt or mother candled them as a child. These stories date back three or four generations. Most of the stories that are shared with us are from families from Italy, Poland, Central America and South America. Not Native American Indians.
Why use Harmony's Candles?
Choose a candle you can trust ..... the World's Safest Handcrafted Candle!
Harmony's Ear Candles are handcrafted to rigorous standards of quality and craftsmanship Each handcrafted ear candle is hand inspected and guaranteed for quality and efficacy.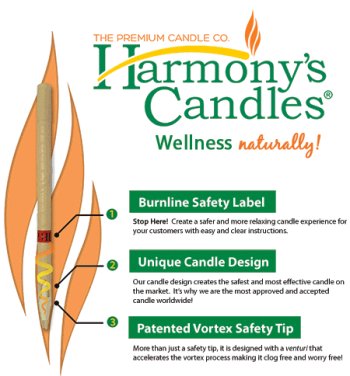 Patented Safety Tip
100% liability proof. Increases the vortex acceleration process which creates a better candling experience.
After reviewing the AER's worldwide and speaking with other ear candle companies, it became apparent to the developer Dr Harmony that there could be a safety issue if an ear candle did not have a safety tip.  This safety tip provides an extra layer of protection, unlike any other Ear candle.
Why do you not see as much debris with our ear candles?
Dr. Harmony understands and knows that everyone is fascinated with the debris inside of the ear candle and that they expect to see a lot of debris.  However the safety tip ensures that safety comes first. The safety tip provides a stronger combustion rate, meaning that most of the debris on the inside of the candle now will burn off rather than being deposited to inside of the ear candle. It is suggested that the end user to focus on the way their bodies respond to this treatment and not to what they see.
Burnline Safety Label

STOP HERE! It just makes sense to eliminate all doubt with clear instructions, cerating a safer and more relaxing candling experience for your customers.

Highest Quality Wax

The most environmentally friendly wax on the market, creating the least amount of carbon particulates while it burns, keeping our world and customers healthier!

Certified Organic Cotton Cloth

Using 100% certified organic non-GMO cotton cloth, our candles are double-wrapped, using twice as much cloth as our competitors, giving you a sturdier and longer burning candle.

Handcrafted in the USA

Harmony's Candles® are proudly handcrafted in rural Douglasville, Georgia U.S.A. They are hand made by single mothers, people with disabilities, homeschooling families and those in need. The manufacturers have created Fair Trade Micro Economic units through Georgia with 50 families.
Many competitor candles are crafted from cheaply sourced materials in China, and they are not only incorrectly designed, they are simply dangerous to use. Beware purchasing competitor brands as you never know where they are sourced from.
Follow these easy instructions for a relaxing ear candling experience
You will need:
Small bowl with water
Paper plate
Matches or a lighter
Harmony's Candles ®
Lie on your side with your ear facing the ceiling. Put a hole through the centre of the paper plate, ignite the larger end of the Harmony's Candle, gently put the small end on top of ear canal and hold Harmony's Candle during the entire process. Use only candles with a patented safety tip. When the Harmony's Candle burns down to the burn line extinguish the candle in water. After the process is completed, there may be a slight smoke residue.

Caution
Open flame can cause burn injury. ALWAYS use two people when using a Harmony's Candle. The second person holds the Harmony's Candle and informs the user when the flame has reached the burn line. Keep all flammable materials and hair away from burning candle. If you feel uncomfortable, stop using the candle.

How often should I use Ear Candles?
Many people use at least two or three Harmony's Candles per ear during each session.
Watch our Video Testimonials and See What Others Say About Harmony's Candles
Disclaimer
Harmony's Candles are intended for personal relaxation and well being purposes only. Harmony's Candles® are NOT a medical device. Harmony's Candles® are not intended for removing ear wax or other substances from the ear. Harmony's Candles® are NOT designed, manufactured or intended to be used in the diagnosis, treatment, cure or prevention of disease or medical condition. Harmony's Candles® are a personal relaxation and well being product. Do not use Harmony's Candles® as a substitute for professional medical services and treatment. We cannot and do not assume liability for any damage or injury that may occur from improper or careless misuse. Use caution and common sense with this product. User has the responsibility for proper and safe use of Harmony's Candles® and assumes all liabilities associated with that personal well being responsibility.
Customer Reviews
Review
As a child, my grandma would candle my ears on a regular basis as part of natural wellness. Now as an adult I was happy to find these high quality ear candles which are exactly like those used in the past. Very effective and high quality made! Definitely recommend
Frequently Asked Questions( FAQ )
Click here to view Questions and Answers