---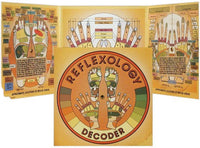 This decoder supplies an instant introduction to the popular healing practice of reflexology. The history of reflexology dates back to ancient China 4000 or more years ago.
The technique is natural, does not require drugs and can be applied to both hands and feet.
The soles of the feet and the palms of the hands divide into sections that mirror the different body organs. Massaging these areas can stimulate and strengthen the associated internal organs and promote the healing process. Reflexology can be especially effective in relieving tension and stress.
The procedure brings relaxation and ease to the whole body and assists in restoring and maintaining a healthy balance of body and mind. Even the simplest massaging of the fingertips can be very pleasant.
The Reflexology Decoder provides all the necessary maps in considerable colour-coded detail. Various massaging techniques are discussed and much other information supplied. Revitalise your body and mind by applying reflexology massages in your home or place of work today!
Customer Reviews
Review
Got this for my daughter after she did a course for reflexology,,,The tutor had one and she recommended to all the students,,thanks
Frequently Asked Questions( FAQ )
Click here to view Questions and Answers