---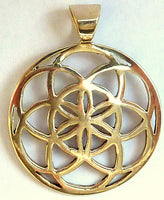 Sale
The Seed of Life is formed from seven circles being placed with sixfold symmetry, forming a pattern of circles and lenses, which act as a basic component of the Flower of Life's design.
This beautiful piece re-activates the memory of the original human design and holds the code of our celestial origins. It calms the over stimulation of the adrenal glands, and reduces the feeling of fear by connecting you to the Benevolent Source of Creation. This form integrates the spiritual identity. It is sometimes referred to as the "Seed of Life", which is incidentally found in the middle of the Flower of Life (see diagram below).
The Seed of Life is a symbol depicting the seven days of creation in which the Judeo-Christian God created life; Genesis 2:2-3, Exodus 23:12, 31:16-17, Isaiah 56:6-8. The first day is believed to be the creation of the Vesica Piscis, then the creation of the Tripod of Life on the second day, followed by one sphere added for each subsequent day until all seven spheres construct the Seed of Life on the sixth day of Creation. The seventh day is the day of rest, known as the "Sabbath" or "Shabbat."

| | | | |
| --- | --- | --- | --- |
| Material | Color | Dimension (in/cm) | Weight (lbs/g) |
| Sterling Silver | Silver | Diameter: 1.18 / 3.0 | 0.71 / 5 |
Customer Reviews
Looks Good
Very happy with my purchase.
Frequently Asked Questions( FAQ )
Click here to view Questions and Answers