---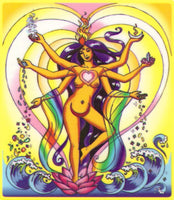 Sale
Shakti, the primordial Divine Feminine energy in the Hindu tradition. The essence of feminine life force energy, Shakti dances with waves of passion and flowing light and color.
In her six arms She holds the elements of air, fire, earth and water, and pours forth the fruits of the earth in the form of food and riches. The receptive crescent moon and the open heart radiance are Her special symbols. May She bless you with all you need and desire.
Measures 4" x 4.5" in size.
Artwork by Amara Karuna
Customer Reviews
Happy
Very happy with this item!
Frequently Asked Questions( FAQ )
Click here to view Questions and Answers