---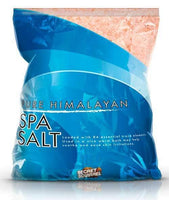 Sale
Himalayan spa salt is loaded with over 84 trace elements for the body. As well as being required for the foot spa, a bath with spa salts will help ease skin irritations. Soak in a bath with 250g of spa salts for no longer than 30 minutes. Follow by drinking at least 2 litres of water.
Himalayan Pink Grinding salt is a pure hand mined salt derived from the foot hills of pristine Himalayan Mountains. Harvested from ancient sea salt deposits over 250 millions years old, it is believed to be the purest form of salt available, and is clear of dangerous metals like mercury (normally found in sea salt).
Unlike normal table salt which has just two elements, sodium and chlorine, Himalayan Salt contains trace elements that naturally exist in our bodies. These minerals are in the same proportion as found in human cells. Our Himalayan Salt is unaltered, wholesome and natural salt which is totally unaffected by processing or toxins.
Note: Bag may appear differently to what is provided. May be supplied in plastic jar or bags.
Suitable for use with;
Salt Grinders
Baths - A bath with Spa Salt may soothe any skin irritation. Soak in a bth using 250g od Spa Salt for no longer than 30 minutes. Followed by 2 litres of of water.
Customer Reviews
Happy
Received it this morning - very happy!
Frequently Asked Questions( FAQ )
Click here to view Questions and Answers