---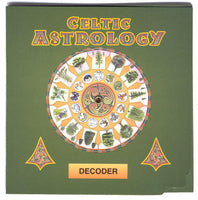 Sale
Celtic Astrology
The Celtic Astrology is based on the cycle of the moon with the year divided into 13 lunar months, each associated with a tree sacred to the Druids.
The Druids believed the human race originally descended from trees, and each tree had specific magical qualities. They encoded these mysteries in a secret Shamanic alphabet, known as the Ogham, the origin of which is ascribed to Ogma, the Celtic god of poetry.
The Decoder
The 13 tree months each correspond to;
a tree
a letter of the Ogham alphabet
a guardian animal
a Celtic god

One of the 4 wheels contained within the Decoder (Click to Enlarge) 
The decoder provides all information as well as a detailed character analysis for each of the 13 personality types.
It is especially interesting to compare the Celtic moon cycles with the traditional zodiac sun cycle, a task made easy using this decoder. Just spin the four wheels in the decoder and enjoy the Ancient Druids Wisdom. 
Customer Reviews
Full of good info
I have found this as a good reference and learned much from it.
Frequently Asked Questions( FAQ )
Click here to view Questions and Answers