---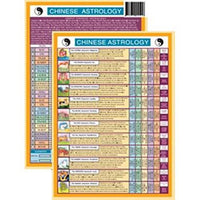 Sale
Learn how to recognise personality types the easy way with the Chinese Astrology Mini Chart.
Chinese Astrology is based upon a twelve year lunar cycle. Your sign is determined by the year in which you were born in the Chinese calendar. Each sign and those born under it, are represented by one of twelve animals and are ascribed a set of attributes that the Chinese believe comprise the nature of each particular animal. Astrology is also known as the study of the Zodiac, Horoscope or Star Signs. This handy Mini Chart introduces the 12 Chinese Zodia Signs and their divination potential.
This concise and useful Mini Chart shows 10 Essential areas:
1. Examines Chinese Astrology, Zodiac or Star Signs
2. Beautifully illustrates the 12 Chinese Astrological Signs
3. Includes a detailed overview of Chinese Astrology and its legend
4. Lists the dates and years to identify your Sign, states the relevant Animal for the date, uses Colour Coding to identify the 5 Elements and specifies the Harmony Sign of Yin or Yang for each date
5. Identifies the Sign and a Keyword
6. Explains personality patterns and general characteristics for each Sign
7. Outlines the characteristics for each of the 5 Elements in relation to the Sign
8. States the Compatibility of Signs as Favorable and Unfavorable
9. And more . . .
A very useful tool for anyone who is interested or wants to learn about Astrology.
Printed and protection coated on both sides.
Size: 16cm x 23.5cm
Note: The low resolution image shown has been purposely provided to protect copyright content of the chart. The chart you will receive is in an easy to read high resolution format.
Customer Reviews
Well Written
A good reference.
Frequently Asked Questions( FAQ )
Click here to view Questions and Answers