---
Created by specification of Deepak Chopra MD, we present the Dream Master .......
The Dream Master Brain Synchronizer is a meditation machine, and it has like the Kasina, more than 100 programs. Five of those programs are written and narrated by Deepak Chopra himself. The Dream Master is designed for the beginner or intermedaite meditator, and it will assist you through entrainment in achieving new states of consciousness during your meditation sessions. This can have a secondary effect of increaing your motivation, intuition, creativity as well as your drive for personal growth. Even if you have never meditated before, it is well worth giving the Dream Master a try to achieve a relaxed, pleasurable state. You will not be dissapointed with the Dream Master.
The selection of pre-programmed available programs on the Dream Master include programs which help you deal with;
stress
anxiety and relaxation
meditation
sleeping
dreaming
In addition to this, there are built in programs for;
creating altered states of consciousness
energizing
learning
As well as having the built in programs, there are other programs that can be downloaded and added to your Dream Master.
As with the Kasina, a the Dream Master has its own built in mp3 player which contains all of the preprogrammed programs, meaning that you do not need a CD player, phone, laptop or any other device to operate the Dream Master. It is all self contained.
Some of the exciting titles in the range of programs available include;
Trip to the Forest
Path to Love
Chakra Meditation
Being Still
Bhagavad Gita - Cosmic Vision
There are 14 visioning programs, some of which include;
Dreams in the Mind's Eye
Journey of the Drums 
Water Planet
Tibetan Highlands
Children of the Universe
Waves of Coincidence
Naked Mantras
Sleep Cycle
Winter & Journey
In addition to this you have 66 programs which target different states of consciousness. These can be divided into the following;
Accelerate – 6 programs
Night Voyage – 6 programs
Meditate – 7 programs
Rejuvenate – 7 programs
Mind Art – 14 programs
Trance – 5 programs
Whats included with the Dream Master
Meditation glasses with 6 LEDs per eye (1 red, 2 green, and 3 blue), are able to achieve 85 different colors
rechargeable controller with LCD display
memory card
USB charging cable
stereo earbuds
manual and quick start card
carrying case
includes a built in rechargeable battery
includes a 2 year manufacturer warranty
About Deepak Chopra
Deepak Chopra is the author of over 75 books which have been translated into more than thirty-five languages. Deepak Chopra's medical training is in internal medicine and endocrinology and he is a Fellow of the American College of Physicians, and a member of the American Association of Clinical Endocrinologists. Deepak Chopra is a Co-Founder and Chairman of The Chopra Center for Wellbeing, and is an Adjunct Professor of Executive Programs at Kellogg School of Management at Northwestern University, as well as an Adjunct Professor at Columbia Business School, Columbia University, Assistant Clinical Professor, in the Family and Preventive Medicine Department at the University of California, San Diego, Health Sciences, Faculty, at Walt Disney Imagineering, Senior Scientist with The Gallup Organization. GlobeIn acknowledges Chopra as "one of top ten most influential spiritual leaders around the world." TIME magazine has described Dr. Chopra as "one of the top 100 heroes and icons of the century and credits him as "the poet-prophet of alternative medicine."
Dream Master Quick Start Giude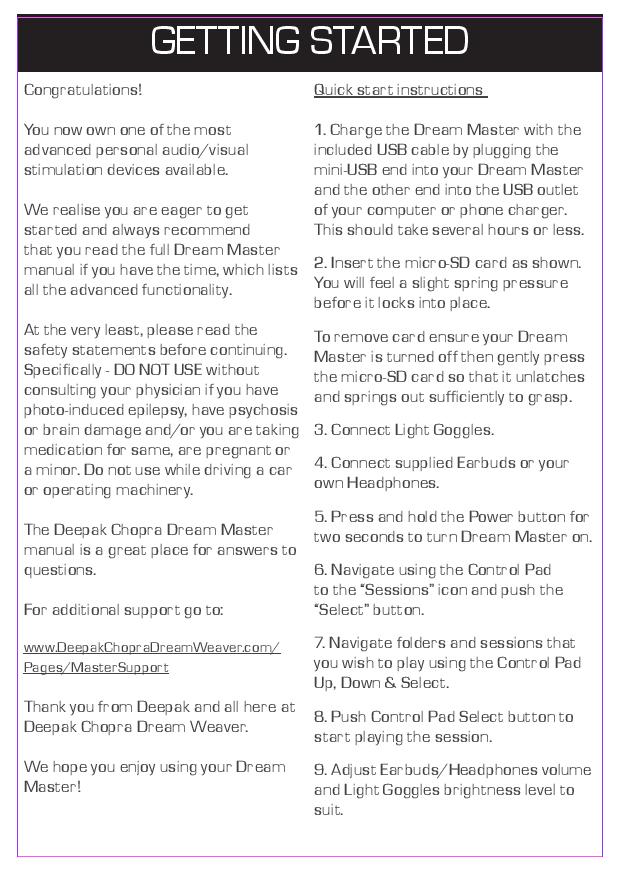 Click here for Dream Master Complete Operating Guide
Customer Reviews
Review
Best Meditation glasses ever! Love them.
Frequently Asked Questions( FAQ )
Click here to view Questions and Answers