---
The Setting
Only the still mind knows infinity. Relax and enjoy this pure listening experience. Let it help you to set your mind to rest - completely. The Renaissance period sparked some extraordinary music, rich in emotional intensity and complex harmonies. Many of the works on this CD were performed on significant spiritual occasions. One can imagine how these compelling sounds created an atmosphere of meditation and contemplation in the Sistine Chapel. The profound grandness of the music matches Michelangelo's 'Creation' masterpiece in feeling and expression - perfectly. Today, the emotional effect on the listener is still overwhelmingly powerful. Let this rare musical treat bring to you the delicious taste of Renaissance genius.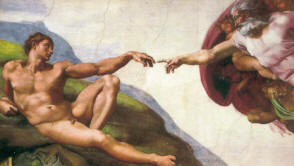 Creation in the Sistine Chapel by Michelangelo
This package includes fragrant Meditation Incense and Balm to enhance the listening and meditation experience.
Customer Reviews
Good
Very happy with my purchase.
Frequently Asked Questions( FAQ )
Click here to view Questions and Answers