---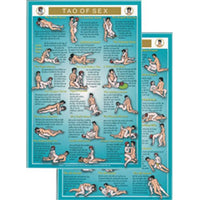 Sale
In this chart is presented a comprehensive and humorous overview of the ancient Tao of Sex. Fully illustrated by cartoonist Freddy Negro. 
Taoist sexual practices literally meaning "Joining Energy" or "The Joining of the Essences", is the way some Taoists practiced sex. Practitioners believed that by performing these sexual arts, one could stay in good health, and eventually, with some other spiritual or alchemical practices, attain immortality. 
Some Taoist sects during Han Dynasty performed sexual intercourse as a spiritual practice, called "HeQi" ("Joining Energy"). The first sexual texts that survive today are those found at the Mawangdui tombs. While Taoism had not yet fully evolved as a philosophy at this time, these texts shared some remarkable similarities with later Tang dynasty texts, such as the Ishinpō. The sexual arts arguably reached their peak between the end of the Han dynasty and the end of the Tang dynasty. After 1000 A.D. [CE], Confucian puritanism became stronger and stronger, so that by the advent of the Qing dynasty, sex was a taboo topic in public life. These Confucians alleged that the separation of genders in most social activities existed two thousand years ago, and suppressed the sexual arts. Because of the taboo surrounding sex, there was much censoring done during the Qing in literature, and the sexual arts disappeared in public life. As a result, some of the texts survived only in Japan, and most scholars had no idea that such a different concept of sex existed in early China. 
The basis of all Taoist thinking is that qi is part of everything that exists. It is related to another energetic substance contained in the human body known as jing (精), and once all this has been expended, you will die. Jing could be lost from the body in a variety of ways, most notably the bodily fluids. Taoists would use practices to stimulate/increase and conserve their bodily fluids to great extents. The fluid that contained the most Jing was male semen. Therefore the Taoists believed that men should decrease the frequency or totally avoid ejaculation in order to conserve their life essence. 
The Tao of Sex Mini Chart measures 9.25 x 6.25" (235 x 160mm) in size.
Note: The low resolution image shown has been purposely provided to protect copyright content of the chart. The chart you will receive is in an easy to read high resolution format.
Frequently Asked Questions( FAQ )
Click here to view Questions and Answers