---
The Mystiches Lenormand, or what is more popularly known as the Mystical Lenormand, is one of the many new versions of the Oracle deck cards that were once used by the famed fortune-teller Mlle Lenormand (1772-1843), the Sibyl of Paris. The deck got its inspiration from the classic Lenormand cards and was published in 2006 by AGM Müller.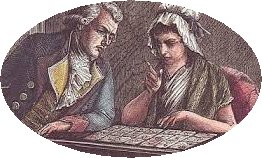 Mystiches Lenormand is different from the classic tarot. Instead of the standard 78 cards, the deck is comprised of 36 cards. It does not have a Minor Arcana and have completely different card titles.
Regula Elizabeth Fiechter has worked with the Lenormand Cards fo more than 20 years. Urban Trosch painted the pictures with the classic Eitempera technique and has created captivating works of art with brilliant colors.
Mystiches Lenormand Cards
The Horse Rider – News from somewhere far or via a visitor
The Clover Leaf – Good luck, opportunities and wealth
The Ship – Travel, good opportunities, exploration
The House – Home, domestic affairs
The Tree – Energy and health
The Clouds – Complications, obstacles
The Snake – Betrayal, lies, jealousy
The Coffin – Illness, depression, or even death
The Bouquet (The Flowers) – Contentment, recovery, healing, abundance of love
The Scythe – Danger, break-ups
The Whip (The Birch rod) – Fight, conflicts
The Bird – Communication, messages
The Child – Trust, sincerity
The Fox – Disloyalty, treachery
The Bear – Need for strength, power
The Star – Success, reputation
The Stork - Improvement
The Dog – Faithfulness
The High Tower – Protection and guidance
The Garden – People, creativity
The Mountain – Overwhelming obstacles
The Crossroad - Decisions
The Mouse – Losses and theft
The Heart – Love, romance
The Ring – Partnership, agreements
The Book – Surprise, mystery
The Letter – Documents, award
The Gentleman – A man, neutral card
The Lady – A woman, neutral card
The Lily – Peace, tranquility    
The Sun – Happiness, glory
The Moon – Dreams, fantasies, emotion
The Keys - Answer
The Fish – Independence, wealth
The Anchor - Stability
The Cross – Pain, misfortune
The Fool is given the number 0.
Dimension
Weight (oz/g)
Card Size: 9.3 x 6 cm (3.6 x 2.3")
Deck Size: 9.3 x 6 x 1.8 cm (3.6 x 2.3 x 0.7")
2.5 / 72
Includes 36 Cards and Instruction Booklet
Customer Reviews
Good
Very happy with this item!
Frequently Asked Questions( FAQ )
Click here to view Questions and Answers