---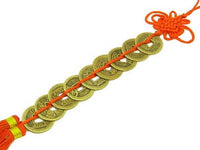 This Nine Emperors coins tied together with auspicious red thread and ends with two Oriental tassels is an auspicious wealth and luck enhancers. The Mystic Knot further magnifies its potency.
Popular among I-Ching practitioners, this item will bring endless wealth. Hang it in your wealth corner, above the front door of your house, at your work place or study to attract auspicious money luck. The coins may also be hung in your car to bring happy ventures and good tidings whenever you travel.
Customer Reviews
Happy
Very happy with this item!
Frequently Asked Questions( FAQ )
Click here to view Questions and Answers