---
Sale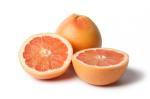 Pink Grapefruit is a subtropical citrus tree known for its bitter fruit. It has a fresh, sweet, bitter, citrus aroma. It is used to scent citrus perfumes and colognes, soaps, creams and lotions.
Benefits of using Grapefruit Pink:
Muscle fatigue, stiffness, acne, mental exhaustion, fluid retention, athletes foot, tones congested skin, tightens skin, antiseptic, disinfectant, detoxification and anti-infectious.
Astringent for oily congested skin and hair, aids hair growth.
Reduces cellulite, depression and headaches.
Disinfects airborne germs.
Increases circulation, stimulates lymphatic system detoxification, regulates body weight with regular use.
Aids jet lag, PMS, alcohol and drug withdrawals.
Keeps the skin clean.
Particularly good for treating oily skin and acne. Gives a refreshing feeling.
Also beneficial for treating stiffness and cramp in muscles.
Blending: Grapefruit Essential Oil goes fine in blends with Bergamot, Frankincense, Geranium, Lavender and Palma Rosa oil.
Few Words of Caution: Can cause skin irritations if exposed to strong sunlight after application. Should be avoided during pregnancy.
Frequently Asked Questions( FAQ )
Click here to view Questions and Answers