---
Sale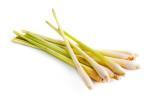 Lemongrass is stimulating, refreshing, increases alertness and aids concentration. It helps to relieve fatigue and aching muscles, and acts as an insect repellent disinfectant.
Maybe Useful for: excess perspiration, room deodorizer, repels mosquitoes, flatulence, and helpful for muscle soreness.
In aromatherapy, inhaling the aroma of lemongrass essential oil (or absorbing lemongrass essential oil through the skin) is thought to transmit messages to a brain region involved in controlling emotions. Known as the limbic system, this brain region also influences the nervous system. Aromatherapy proponents suggest that essential oils may affect a number of biological factors, including heart rate, stress levels, blood pressure, breathing, and immune function.
In vapor therapy, Lemongrass oil can be used for nervousness and as an insect repellant. It is also great to revive the mind when feeling lethargic and to energize as well as relieving fatigue.
Customer Reviews
Nice Scent
Has a really nice scent to it. Freshens my home up when I have guests.
Frequently Asked Questions( FAQ )
Click here to view Questions and Answers