---
Sale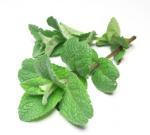 All you need is a whiff of peppermint to put the pep back in your step. Peppermint has a cooling, refreshing effect and is widely used to enhance mental alertness. Peppermint is a perennial herb that boasts natural energy-boosting properties.
Extraction and Application: Peppermint oil is extracted before the herb flowers and is then steam-distilled. It is used in vaporizers, massage oils and lotions, baths, even mouthwash.
Aromatherapy Uses: Peppermint oil has a number of therapeutic properties. It is a cooling agent that enhances mood, sharpens focus, combats irritation and redness, alleviates symptoms of congestion, and aids in digestion.
Caution: Although non-toxic, the menthol component in Peppermint can bother some individuals. It is also a skin irritant and should be kept away from the eyes. Keep away from small children and do not use while pregnant.
Customer Reviews
Very Happy ...
A good pure scent.
Frequently Asked Questions( FAQ )
Click here to view Questions and Answers