---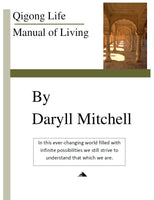 In this ever-changing world filled with infinite possibilities we still strive to understand that which we are.
Written by Qi Gong Master Daryll Mitchell.
The following is an extract from the book .....
Qigong involves the use of three main mechanisms:
Mind
Movement
Breath
Of these the mind is the hardest to Master, breath being the second and movement, the last. It is easiest to Master the movement, harder to Master breath, most difficult to Master the mind. It is advisable to listen to your teacher and to follow their advice, taking into account that they know what they're doing, in regards to correct movements, as the paying attention to form naturally leads to correct breathing and correct mind. Qigong teaches us about awareness of what we're doing right now and therefore is a great tool for developing a relationship with the 'now'. It teaches us to let go of the concerns of yesterday and what we have yet to do today and tomorrow and pay attention to what we're doing right now. Qigong depends upon our ability to learn what we're doing and we cannot Master this ancient art without achieving this.

Thus in a roundabout way, paying attention to what we're doing throughout our Qigong tuition teaches us how to be more attentive to the living moment as we move and sway, breathe and guide our energy internally and externally. What we're doing is developing a relationship with this energy by involving ourselves in simple, graceful movements. The ancient Chinese knew that the best way to quieten the monkey mind was to give us something to do that involves paying attention to it, for then we could not wander and wonder about life's trivialities. We had to be present and listen or we would miss out on the opportunity to take in what was being offered by our teachers.

The next thing to discuss is consistency of practice. It is not enough to practice once a week, just as it is not enough if we wish to become a competitive marathon runner to run once a week. We need to understand that progress in Qigong is greatly dependent upon our efforts, not just our physical efforts, but also developing and maintaining the correct frame of mind. As a novice it is important that we maintain consistency of physical practice so that our energy systems can become adjusted and used to extra energy flowing throughout our bodies. Also our neurological system needs to adjust to new movements, methods of breathing, and new states are being. Our body mind and Spirit will be adjusted by Qigong as extra energy flows through our subtle bodies.

As extra Qi flows through our body our systems will become adjusted to new states of being and initially this may be uncomfortable, as the Qi is adjusting and modifying the internal environment casting out sick Qi. The sick Qi holds in the body the physical poisons and toxins and so firstly as the new Qi starts to circulate, the body's intelligence starts to wake up with renewed vitality and ability, removing these toxins and poisons. Sometimes responses physically can occur almost immediately with extra bowel movements, increased sweating and body odour, need for extra sleep, and emotional ups and downs. These reactions are normal and common as with become adjusted to a more wholesome internal energy environment. As long as we have sought the advice of professional medical person prior to performing this or any other exercise routine, and given the all clear, then there is no danger to the body adjusting to new vitality. It is important to use common sense and pay attention to how you feel when performing Qigong exercise, and rest when necessary. It makes no sense to exert yourself initially, allow yourself to adjust to routines. Push yourself by all means, but push yourself in accordance with sensibility to the needs of your body regarding rest and nutrition.

In China many people perform long hours of Qigong exercise to rid themselves of chronic illness with great success although it is not right for everybody to do so. This being said, the idea behind performing long hours of routines is aimed at soaking the person in Qi and allowing the body to adjust quickly whilst removing the illnesses as quickly as possible. We know that we need as much rest as we do exercise and so be sensible when undertaking this or any other routine.
Customer Reviews
Good
A really good informative book.
Frequently Asked Questions( FAQ )
Click here to view Questions and Answers