---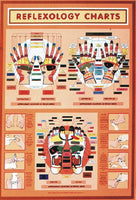 Sale
About Reflexology
Reflexology can be described as an alternative therapy where pressure is applied to the feet using specific thumb or finger techniques, without the use of creams or lotions.
Each area of the foot has a specific reflex which corresponds to an internal organ, gland, spine, or other region of the body.
Through the application of pressure into these reflexes, one is able to relieve stress and tension, improve circulation and promote the natural function of the corresponding area of the body. 
The Reflexology Wall Chart
The Reflexology Wall Chart is one of our most popular wall charts. It is easy to follow, and looks great hanging as a poster sized reference on the wall.
It includes our map of the reflexology zones and explains massage techniques.
The chart is protected with a plastic coating for durability.
Dimension (in/cm)
18.0 x 13.2" / 48 x 33cm.
Customer Reviews
Happy
I have this hanging in my waiting room. It looks good and attracts a lot of interest.
Frequently Asked Questions( FAQ )
Click here to view Questions and Answers