---
Sale
Tai Chi Gong is a 50 minute DVD that presents the viewer with 27 Tai Chi and Qi Gong exercises for mind and body wellbeing. The exercises have been selected for beginners and advanced alike, making the DVD an exceptional reference for mastering technique and good health.
Objectives
To develop bodily awareness and control, deep relaxation, smooth breathing and relief of unhealthy challenges in life.
Practice Holistic Qi Gong Healing to Manage Your Headaches and Arthritis, Relief Stress and instil meditative tranquillity, by circulating fresh energy, and cleansing the circulatory and cardio Vascular systems from all impurities.
Clinical Researches shows that exercising regularly can help manage Arthritis, Osteoporosis, headaches, Stress, abnormal eating habits, troubled breathing, inability to slow down or relax, depression, ulcers, high-blood pressure, phobias, and disturbed sleep patterns.
The benefits of the Tai Chi and Qi Gong ?
Studies show that such tai chi movements can improve balance, flexibility, circulation, stamina, and relaxation for older adults. Potentially it can reduce high blood pressure and assist with management of Osteoarthritis.
Meet Your Instructor ....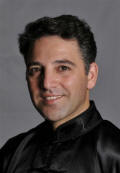 Your instructor in this DVD is Gad Levy-Golan, a Teacher-Master and internationally qualified and accredited instructor by Australian Sports commission, specialising in the Internal Healing Energy & Martial Arts for over 25 years. He is a disciple of the late Grand Master Sifu Kenny Gong, in New York. Sifu Gong was a remarkable Chinese Doctor, Teacher and Martial Artist.
The Tai Chi Gong DVD brings you an integrated and simplified training program that is based on the Qi Gong of Tai Chi, Shing Yi and Pa Kua. In a program of 27 carefully chosen exercises we managed to achieve the cultivation of our internal energy, cleansing and purifying Body and mind.
These are selected exercises of the ancient secrets of internal energy movements, to balance the body's internal systems, cultivate inner peace and tranquillity, improve health and wellbeing, lifestyle and longevity.
Firstly with warm up and proper alignment we open blood vessels, nerves and ligaments. When we succeed in moving chi, we can feel blood moving, either by sensing our pulse in various places change of temperature to feet or hands. We can also sense some success when we feel more alert and more alive.
Mindful movements based on ancient techniques for a slimmer and firmer body while calming the mind and strengthening the spirit.
Designed to increase energy levels and speed up metabolism and blood circulation, while improving balance and coordination, flexibility, self-confidence, calmness and creative wellness. Teaches the body and mind to work as one, harmoniously and effectively.
The DVD was shot in Sydney, Wentworth Falls and the Blue Mountains in Australia, and Jerusalem.
Important Note: Tai Chi Gong is available only in PAL format only. Note that students in North America are usually able to play the DVDs on their computer DVD drives, but they normally are unable to play them on DVD players in their entertainment system which require NTSC format.
See also Qi Gong and Medical Qi Gong.
| | |
| --- | --- |
| Dimension (in/cm) | Weight (oz/g) |
| 7.5x5.3x0.55 / 19.0x13.5x1.4 | 3.1 / 90 |
Customer Reviews
Good
Very good instruction in this DVD!
Frequently Asked Questions( FAQ )
Click here to view Questions and Answers