---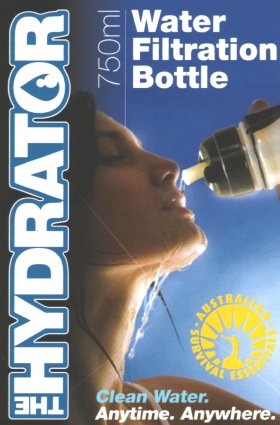 Clean Water ....... Anytime ......... Anywhere!
Now, water can be filtered anytime, anywhere...and the quality is guaranteed!
Simply fill the bottle with water from nearly any questionable source and filter it for safe water to ingesting. Not suitable for salt water.
Up to 300 Refills!
It is the perfect traveling companion. Don't leave home without The Hydrator! The Hydrator can be easily stored in your 4wd or Back Pack when going Bush!
Concerned about the taste, odor and quality of your drinking water when traveling worldwide? Outdoors active lifestyle? Surviving disasters including floods, fires and cyclones?
How does the Hydrator work so well?
The lonic-Adsorption Micro-Filtration System is an entire water filtration plant within a portable bottle. The patented lonic- Absorption Micro-Filtration System reduces up to 99.99% of the following zones of contamination:
Aesthetics: unpleasant taste, odor, clarity, chlorine, sand and sediment; Radon 222.
Biologics: harmful microscopic pathogens such as Cryptosporidium, Giardia, E-Coli and other waterborne cysts and spores.
Chemicals: toxic chemicals, detergents, pesticides and other harmful industrial and agricultural wastes.
Dissolved Solids: heavy metals such as aluminum, asbestos, copper, lead, mercury and others.
Ionic Adsorption Micron Filter System
'The most field and laboratory tested product of its kind in the world"
This Portable Water Filtration Sport Bottle is the answer to today's need for great-tasting safe drinking water wherever you go!
The Filter Bottle is designed with our Exclusive lonic-Adsorption Micro- Filtration™ Technology producing a "filtering" capacity of up to 99.8% of most harmful contaminants for up to 300 litres.
Exclusive filter is tested by EPA and State registered laboratories and meets and or exceeds EPA/ANSI protocols and NSF Standards 42 and 53.
All materials FDA food grade approved. Tested by Independent laboratories using EPA/ ANSI protocols and NSF standards 42 and 53.
Environmentally safe! Does not pollute the planet
Reusable - made of FDA approved low density polyethylene #4 plastic - will not leach! 
Care and Use
The filter has been preflushed at the factory, but it is a good idea to flush it once more before initial use.
Remove cap and fill bottle about half way from the top with standard tap water. Replace cap tightly. Flush out all of the water.
Bottle is now ready for use.
DO NOT: Place the bottle in the freezer, (when water freezes, it expands and could damage the bottle and/or filter)
DO NOT: Fill with HOT water, or anything other than water.
Clean all plastic parts with a mild liquid detergent.
Maintenance and Storage
When the filter system will not be used for an extended period, flush with tap water through the filter, remove the filter/ cap assembly and place on a paper towel overnight to dry. Reassemble when dry and store indefinitely.
| | | |
| --- | --- | --- |
| Dimension (cm) | Bottle Capacity | Weight (g) |
| 25 cm High x 8 cm Diameter (in widest section) | 750mL | 156 |
Customer Reviews
Good
Works really well - we keep it with our camping gear.
Frequently Asked Questions( FAQ )
Click here to view Questions and Answers