---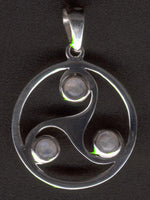 This pendant consists of a solid sterling silver (92.5%) chakra wheel with three beautifully embedded rainbow moonstones.

Each of the tumbled semi-precious moonstones has a refractive effect with the light, thus the given name "Silver Rainbow". This refractive effect is difficult to show in the main photo to the right, but is shown in this photo to the left.
See how it almost has the resemblance of the moon?
Moonstone, the Crystal of Emotional Balance
Moonstone is said to open and activate each of the psychic channels within the wearer. It represents understanding and all things feminine, and ultimately imparts a degree of sensitivity and emotion feeling.
Traditionally, moonstone represents the lunar goddesses - Selene, Cybele, Diana/Artemis, Isis-Nepthys. Each of the lunar goddesses are able to express gentleness, and they have an innate ability to process and neutralize their own personal feelings.
Through wearing this pendant, you are able to master your own feelings and emotions, bringing them under your control rather than unnecessarily repressing or expressing them.
The pendant is hand made and finished with a high end polish, giving an elegant shine of perfection.
| | | | |
| --- | --- | --- | --- |
| Material | Diameter (in/cm) | Weight (ounces/grams) | Chain Included?  |
| Sterling Silver and Rainbow Moonstones | 1.18 / 3.0 | 0.2 / 5 | No |
Customer Reviews
Good
Very happy with my purchase.
Frequently Asked Questions( FAQ )
Click here to view Questions and Answers