---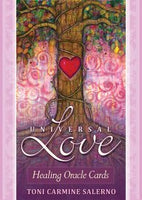 Sale
by Toni Carmine Salerno
Features 45 cards and guidebook, packaged in a hard-cover box set
Toni Carmine Salerno's beloved 'Universal Love: Healing Oracle' (his very first oracle card set) will help bring clarity to your life and answers to your questions.
Think of a question and pick one or more cards to see what messages the oracle offers. The guidebook offers interpretations, but pay particular attention to the images for they offer guidance and healing beyond words.
Examples
Click on any of the cards below to read its message;
Customer Reviews
Good
I just love these cards!
Frequently Asked Questions( FAQ )
Click here to view Questions and Answers