---
Sale
A training program for a healthier and stronger you!
Simple exercises for health & weight loss through Qi Gong and Tai Chi
Slim, shape and tone with Gad Levy-Golan Master-teacher 
Spring into life with Life in Motion's Tai Chi Gong Weights Training Program, presented by Master-Teacher Gad Levy-Golan.
In this DVD we will share with you the secrets of how you can use weights to build core strength and sculpt, shape and tone your body. The Tai Chi Gong Weights Training Program is based on Traditional Chinese Medicine. It is a synergy of ancient and modern exercise philosophies, promoting balance and wellbeing.
The internal energy patterns of Tai Chi and Qi Gong are known for improving quality of life, whilst strengthening and relaxing both body and mind.
The Tai Chi Gong weights training exercises are excellent for arm, shoulder and chest development. Training with the toning energy balls and/or other weights such as dumbbells and wrist weights can build lean muscle tissue and burn kilojoules.
If you are seeking ageless mobility, wish to relieve pain and stiffness as well as restore your joints range of motion, this program is for you! So, make this Tai Chi Gong weights training program an essential tool for both your weight loss, strength and creative wellness goals...and enjoy a Life in Motion!
The benefits of the Tai Chi and Qi Gong ?
Studies show that such tai chi movements can improve balance, flexibility, circulation, stamina, and relaxation for older adults. Potentially it can reduce high blood pressure and assist with management of Osteoarthritis.
Meet Your Instructor ....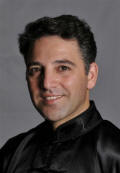 Your instructor in this DVD is Gad Levy-Golan, a Teacher-Master and internationally qualified and accredited instructor by Australian Sports commission, specializing in the Internal Healing Energy & Martial Arts for over 25 years. He is a disciple of the late Grand Master Sifu Kenny Gong, in New York. Sifu Gong was a remarkable Chinese Doctor, Teacher and Martial Artist.
The Tai Chi Gong DVD brings you an integrated and simplified training program that is based on the Qi Gong of Tai Chi, Shing Yi and Pa Kua. In a program of 27 carefully chosen exercises we managed to achieve the cultivation of our internal energy, cleansing and purifying Body and mind.
These are selected exercises of the ancient secrets of internal energy movements, to balance the body's internal systems, cultivate inner peace and tranquility, improve health and wellbeing, lifestyle and longevity.
Firstly with warm up and proper alignment we open blood vessels, nerves and ligaments. When we succeed in moving chi, we can feel blood moving, either by sensing our pulse in various places change of temperature to feet or hands. We can also sense some success when we feel more alert and more alive.
Mindful movements based on ancient techniques for a slimmer and firmer body while calming the mind and strengthening the spirit.
Designed to increase energy levels and speed up metabolism and blood circulation, while improving balance and coordination, flexibility, self-confidence, calmness and creative wellness. Teaches the body and mind to work as one, harmoniously and effectively.
Important Note: Tai Chi Gong is available only in PAL format only. Note that students in North America are usually able to play the DVDs on their computer DVD drives, but they normally are unable to play them on DVD players in their entertainment system which require NTSC format.
See also Qi Gong and Medical Qi Gong.
| | |
| --- | --- |
| Dimension (in/cm) | Weight (oz/g) |
| 7.5x5.3x0.55 / 19.0x13.5x1.4 | 3.1 / 90 |
Length: 82 mins
Frequently Asked Questions( FAQ )
Click here to view Questions and Answers