---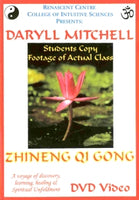 Zhineng Qigong was founded by Pang He ming (Pang Laoshi) as an ''open'' style of qigong for modern times. His aim was to develop a qigong to improve intelligence, create greater health and unlock human potential. At the Huaxia Qigong Centre (now closed), all manner of disease was treated with a 95% success rate for serious illness. 1000 - 2000 people a month would pass through the centre to receive healing and to learn qigong for greater health and happiness.

Covered in this DVD are some of the basic yet fundemental forms of Zhineng Qigong to harness Hunyuan Qi (primordial) and to develop the human qi to the highest level.

This DVD has been put together for Mr Mitchell's private Qi Gong students and is filmed in an actual classroom. It is not a professionally finished DVD - however it offers an interesting insight into a working class and practice of this lovely form of 'healing' Qi Gong.
Customer Reviews
Review
I wanted to share this recent testing from Eric of Fragrant Qi Gong and Zhineng Qi Gong which I just began doing last week since I remembered that you sell Darryl Mitchell's dvd of Fragrant Qigong. I wanted to buy that dvd several years ago but back then Eric tested it and advised me to avoid it. I guess things have changed with my system since then as you will read. Happy New Year and wishing you good health and prosperity for 2018, Steve EMAIL THREAD FOLLOWING; Hi Eric, As you know, I have experienced having to wake up in the middle of the night at least once a night and sometimes more in order to urinate. And this has been the case for decades. However, 8 days ago I began doing for extended periods of time one simple qigong method from the Zhineng Qigong series called La Chi method. Since the first day of doing this method for several minutes multiple times a day, especially before going to bed, I have not wakened to have to go to the bathroom after going to sleep for the last 6 out of 8 days. So would you please test to see if this La Chi method is truly the responsible for being able to sleep thru the night without having to urinate and if this means the chi from this one method is also returning my inflamed or enlarged prostate gland to normal size? The confounding variable in this situation is that the next day after I started doing La Chi method, I then started and have continued doing another qigong method which you have recently tested, Fragrant Qigong, spelled Xiang Gong in Chinese. So is it La Chi method alone that is doing the prostrate healing or is it also being helped by the Fragrant Qigong? I would also like you to test for how many total minutes a day should I do the La Chi method for optimum benefits? It is nice to have found a qigong method that seems to have produced immediate results and that is how it has been advertised. Steve Hi Steve, Wow great results. Yes the La Chi method along with the Fragrant Qigong are responsible for this change and are reducing inflammation in the prostate allowing it to reduce in size. Actually it is the combination of the La Chi and the Fragrant Qigong which is giving the result. These methods are actually quite profound for you as the problem originated in stress in the heart chakra causing a Vata pressure on the liver. In turn the Pitta in the liver was pushed downwards causing inflammation and swelling in the prostate. The La Chi seems to be clearing some of that old emotional stress, taking the pressure off the liver and allowing the liver to cleanse. The Pitta is no longer pushed down onto the prostate allowing it normalize. The Fragrant Qigong is operating more directly on the prostate gland at this time, cleansing, healing and shrinking the area. Thirty minutes total per day of the La Chi should be optimal but you also need to continue the Fragrant Qigong. Happy New Year Eric
Frequently Asked Questions( FAQ )
Click here to view Questions and Answers