---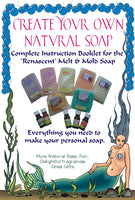 Have you searched for a natural soap that doesn't strip the skin? Did you know that the natural oils form a protective barrier on the surface of the skin and some harsh commercial soaps can strip these oils, rendering your skin unprotected from the elements making it prone to premature ageing and drying. High quality glycerine soap is a far gentler approach to the skin than many commercial soaps. Renascent"s
Discover a fabulous new hobby
Create the most wonderful gifts at home very inexpensively.
Easy enough for the kids to do.
Begin a hobby or expand into a new business
Use your very own favourite scents & colors
Delve into advanced Soap Art
Save money $$$ Create your own soap & bathroom items
These soaps contain beautiful natural ingredients & therefore leave the skin's natural oils in tact leaving you protected whilst feeling smooth & supple. As such they will not last as long as some commercial (hardened) soaps, however they are far kinder to the skin & body & will not stress the meridian (energy) system.
MANY MELT & MOLD STYLE SOAPS ARE NOW AVAILABLE: Most of these are made very cheaply with all manner of chemical. We use the purest ingredients available to ensure a high quality bathing experience. Do not think all lines in this style are of similar quality. We are delighted to offer high quality teachings in natural therapies, personal and spiritual development and a natural health clinic along with a full range of soap bars, soap making supplies & many other wonderful products.
Customer Reviews
Good
Very happy with this item!
Frequently Asked Questions( FAQ )
Click here to view Questions and Answers