---
Better tasting, healthier food and drink .....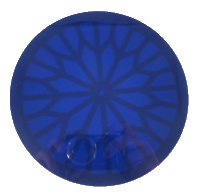 Food Re-Energizers are used to put the life force back into the food and drink that we consume. More often than not, foods have very little life force in them resulting from;
long term storage
cooking or reheating with microwave ovens
contaminating your food with EMR (Electromagnetic Radiation) from the refrigerator motor
Some reports even suggest that some supermarkets store their fruit and vegetables for periods exceeding 12 months before they are sold to the public. This results in lifeless food.
Lifeless food and drink doesn't quite have the flavour as fresh food. By Re-Energizing our foods and drink, we are able to achieve
better tasting foods
softer tasting water
a decreased surface tension in water allowing better hydration throughout our bodies
healthier food and drink
All of this results in feeling better after consuming the food and drink.
The Re-Energizers work by charging food with Orgone Energy. 
How to use the Re-Energizer
Simply place the Re-Energizer under the liquid or food container, and leave for a few minutes to charge. The disk can also be used for foods before consumption.
What is the Re-Energizer Made From and How Does it Work?
The Re-Energizer contains a unqiue energy infused material known as Orgonium, which produces a powerful charging system. Orgone is the matter which creates life force energy, also known as positive Orgone (POR), which enhances anything which comes into contact within its field.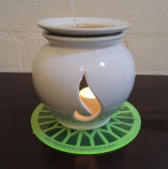 Essential Oils

By placing a burner or diffuser on the Energizer Disk the aromatic resonance of the oil is amplified to 6 metres from the plate.

Normally without the Energizer Plate the aromatic resonance would only extend 500mm from the burner.

Thus giving an opportunity to receive greater pleasure from you essential oils.
Improved Quality of Wine
Many users of these Re-Energizers have observed that they work particularly well with wine, especially red wine. After placing a bottle of wine on the Re-Energizer for about 3 minutes, there is a noticeable improvement in the taste.
Body lotions, tonics and shampoos improve their effectiveness after being charged with the disk.
Longer Lasting Flowers in a Vase
If the Re-Energizer is placed under a vase with flowers, the flowers last noticeably longer when compared to a vase without the Re-Energizer. Some people have reported that placing the disc under a pot plant allows the pot plant to flourish better.
Improved Storage Time in Your Refrigerator
Some people buy a disc and simply store it in their refrigerator.  They observe that their foods store for a lot longer, and rarely have to throw out gone off foods.
Food and Drink Re-Energizer
Color
Dimension (in/cm)
Weight (oz/g)
Varies
6.3 / 16
2.6 / 76
Rainmaking Procedure Using the Food Re-Energizer Disc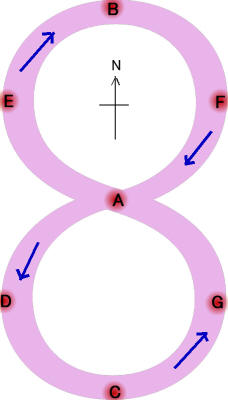 The Food and Drink Re-energizer disc can be used as a rainmaking tool. The procedure used is based on the methods used by North American Indians. It is important when performing the procedure to have a strong will that you want it to rain. Having your mind elsewhere will not achieve the results desired. The disc effectively amplifies your will enormously due to its highly vibrant nature, and sends negative ions into the ionosphere creating the correct conditions for rain to occur.
The following procedure should only be performed between the new moon and full moon. The procedure can be done at any time of the day or night.
The rainmaking is best done in an open area of around 5metres wide x 10 metres long.
If the space is not available, don't worry, a smaller area will be fine. The area needs to be aligned north south along the 10 metre axis. Find the centre point for the figure of eight you will be walking with the plate and mark it with a rock or spray paint. Also mark the top and bottom of the figure of eight, as well as the edges of the figure 8 as shown in the diagram. You can find points D, E, F and G which effectively form the shape of a square 5m x 5m by walking from point A south 2.5m, and then west 2.5m. Mark this point and then walk north 5m (point E), east 5m (point F) and south 5m (point G). You are now ready to begin!
Holding the Orgonium Plate at chest level on the horizontal plane walk the set out figure of eight moving clock wise from the northern end which will put you moving counter clockwise when you reach the southern end (the arrows in the diagram indicate the direction of movement).
Walk the figure of eight around 40 times in one session. You can do more, however we have found that 40 revolutions are sufficient. There are some times of the year that rain occurs naturally, and if that has been the case, check via dowsing to see whether this procedure is required. If you get a 'no', then don't go ahead because you may produce an over abundance of rain that may be detrimental to the environment. Too much rain is as bad as not enough. What we are trying to achieve is the natural balance of rain versus nice sunny growing days.
Customer Reviews
Review
This item arrived from Australia to my home in the USA in so short a time that I was amazed at that kind of service.
Review
I have bought a number of products from Nature's Energy and the latest one is the Large Food and Drink Re-energizer. I am enjoying this product very much. It give me energy to work the whole day when I use it.
Review
Lightworkers Healing Method™ is a gift given to all of us to reach our Source and Angels/Lightbeings/Guides. We can use the Lightworkers Healing Method™ to heal ourselves and others, and having clear energy gateways helps us to reach the Angels waiting for us. The Lightworkers Healing Method™ was given to us from our Guides and Angels and it does not take many people with the understanding to change our planet and infuse our lives with love!
04/22/2016
Veronica J. Anderson, Franklin MA Distance Learning Student
Review
I have not had the pain in my sacrum since our distance learning practice session. The stiffness is also gone. I used to take advil during the day and before bed for various joint and muscle pains, but this week I have not taken any pain meds. I am in shock and dare I say Awe. Thank you Mary I am most grateful. "Also, my Guides are communicating with me much clearer, or maybe I am doing a better job of listening. Whatever it is I am very grateful for it and I want to thank you for your gracious feedback and your serene, loving way of guiding me through the distance learning practice session. You are a Blessing Mary, and I am so thankful that you are my mentor.
Review
There are a few key points that constitute a superb class or training program. Lynn McGonagill's Lightworkers Healing Method™ training program encompasses all of the most important ingredients that allow the student the ability to grasp the material, feel comfortable learning new sets of skills and gain proficiency in the modality. As you consider Lynn's courses, add to your evaluation the following key components: Highly skilled teacher; Safe, sacred learning environment; Clarity of vision; Clarity of teaching material; Support group and refresher training; Content of training program is comprehensive; Multiple learning styles & techniques used.
Frequently Asked Questions( FAQ )
Click here to view Questions and Answers