---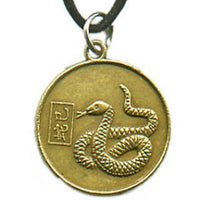 Sale
Birth Years: 1917, 1929, 1941, 1953, 1965, 1977, 1989, 2001, 2013

People born in the Year of the Snake are deep. They say little and possess great wisdom. They never have to worry about money; they are financially fortunate. Snake people are often quite vain, selfish, and a bit stingy. Yet they have tremendous sympathy for others and try to help those less fortunate. Snake people tend to overdo, since they have doubts about other people's judgment and prefer to rely on themselves. They are determined in whatever they do and hate to fail. Although calm on the surface, they are intense and passionate. Snake people are usually good-looking and sometimes have marital problems because they are fickle. They are most compatible with the Ox and Rooster.
Customer Reviews
Nice
Very happy with this item!
Frequently Asked Questions( FAQ )
Click here to view Questions and Answers