---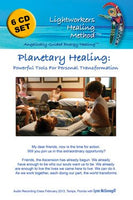 Sale
A Higher Level Class
Recorded live, Tampa FL, February 2013
Total Length: 5 hours 53 minutes
Lynn McGonagill, Instructor
In February 2013, the Higher Dimension Teachers of the Lightworkers Healing Method recorded this Higher Level class: Planetary Healing with the Lightworkers Healing Method Techniques and Access Channels. It is presented across 6 CDs and it is filled with important information on the Lightworkers Healing Method.
We learn how to take our work to a whole new level, creating much more powerful healing opportunities for our clients and for ourselves as we simultaneously do our part to heal the world. These Planetary Healing techniques can take the lid off your definition of what is possible. After all, there are truly no limits.
If you are searching for a breakthrough in your life, we invite you to join a group of exceptional individuals who are committed to living our individual Soul Plans and thereby manifesting the overall Divine Plan on Earth. This is the Bonus Soul Plan Challenge in the Lightworkers Healing Method. Do you want to practice how to accomplish BIG goals, and create success with major undertakings? Are you ready to expand your access to and exploration of the Higher Dimensions, and take your connection with Source to a new level? If so then listen to and study these valuable recordings and apply the techniques to change your life forever.
NOW is the time. The ascension has already begun. As we each do our part, the world transforms. Friends, we already have enough to be who our souls want us to be. We already are enough to live the lives we have come here to live. Let's DO it and together make a difference for all.
The Six CDs and their Audio Tracks
CD 1: Find Joy with the Soul Plan Challenge. Absorb a Transmission for Planetary Healing Access.
Naming the Central Problem of Life
Addressing the Soul Plan Challenge
If I Do My Real Best
Transmission for Planetary Healing
CD 2: Every Healing Session Can Become Planetary with the Power of Intention.
Expanding Intentions - a Win-Win
Layers of the Universe
People are Chosen - Assignments are Given
Let Me Make A Difference
CD 3: Heal Fear and Confusion for Ourselves and for the World by Working with the Astral Planes.
Understanding the Astral Planes
Intention: Heal the Astral Planes
Our Bodies Are the Perfect Anchor
Our Energy Bodies Are Available
CD 4: Heal Suffering and Self-Created Hells for Ourselves, Groups, Situations, Societies, and the World.
Create Sacred Space for Groups
Working with Soul Fragments of the Planet
Our Bodies as Messengers for the Planet
Transmission for Leaders of the New Age
CD 5: Amp it Up by Becoming Channels for Angels and Archangels.
We are Describing a Natural Process
Working in the Suffering Realms With Divine Help
Becoming a Channel for Archangels
Matching our Definition of Self with Reality
CD 6: Bringing it All Together with Unifying Techniques. -And- Safe Loving Space for Practice, Recognition of Certification, Closing Circle.
Questions about Astral and Suffering Realms
Opening Process, Vortex Encompassing the Planet
Unifying Techniques for Healing the Planet
The Planet in your Heart - The Soul Plan of the Planet
Certification Students
Closing Circle and Closing Process
Customer Reviews
Very Happy ...
Very happy with my purchase.
Frequently Asked Questions( FAQ )
Click here to view Questions and Answers