---
Painless Therapeutic Massage Balls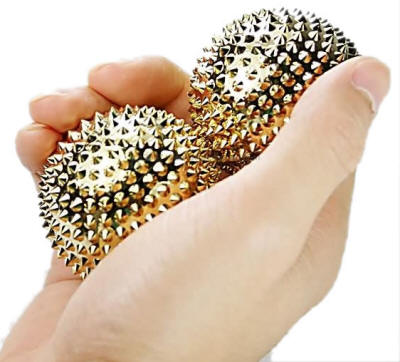 The Acu-Balls can be used as a general tonic to de-stress the body (excellent time fillers!), or they can be used to target specific problems or organs within the body.The Acu-Balls are massaging needle balls that contain over 400 blunt needles on each ball, which are used to stimulate acupressure points and reflex points on the hands and/or feet. Through doing so a therapeutic effect is achieved, and traditional acupuncture meridians which span the length of our body become unblocked, allowing the free flow of life sustaining chi energy.
Using the Acu-Balls as a General Tonic to Improve Health
Use the Acu-Ball as a general therapeutic aid to;
Generally stimulate nerve reflex points on the hands and feet at random (see the reflex point charts for the hands and feet below). Through stimulating each of the reflex points, we are working on each of our internal bodily organs therapeutically, removing any acupuncture meridian blockages which thereby allows chi energy, or life force to freely flow through our body, and consequently promote good health.
Promote blood circulation in the hands and feet. The Acu-Balls contain magnets to aid in improving blood circulation while they are being used.
Using the Acu-Balls on a regular basis will generally improve the health of an individual.
Easy to use, anytime, anyplace. You can take them wherever you go. Use them while sitting watching TV, while sitting on the bus or train, or while waiting at the traffic lights.
They are perfect to use during or after working hours, or after long study periods.
Excellent for relieving drowsiness.
The Acu-Balls are particularly effective in relieving stress from a hard day's work.
Using the Acu-Balls to Target a Specific Disorder or a Specific Bodily Organ
By stimulating specific points on the hands or feet, we are able to work on specific areas in our body. You can use the following hand and feet charts to locate an area that you may need to work on in your body to improve those areas.

Hand Reflexology Chart
Examples Showing How the Hand Reflex Chart Can be Used to Target Specific Conditions




Indigestion
Constipation and DiarrhoeaNasal
Disease and Sinusitis
Shoulder Ache
(refer to more concise
chart which needs
enlarging below)
In the same way, we can target specific organs using the foot reflexology chart.

Foot Reflexology Chart
Note: the hand and reflexology charts do not come with the Acu-Balls. Reflexology charts can be purchased separately.
So, after we have located the area on the chart needing attention, we simply roll the corresponding area on our hand or feet around on the balls, using the pressure that you feel comfortable with for as long as you like.
Scientific Tests and Proof
The Following scientific tests were performed at Kyunghee University in South Korea, and are designed to measure blood flow in body before and after stimulation with the Acu-Ball.
| | |
| --- | --- |
| | |
| Body Temperature before stimulation to hands with Acu-Ball | Body Temperature after stimulation to hands with Acu-Ball |
Material
Color
Dimension (in/cm)
Weight (oz/g)
24K Gold Plated
Hard Plastic with Magnetic Insert
Glued to the Interior Surface
Gold
2 balls provided, each with Diameter: 1.9" / 4.8cm
3.9 / 111
Disclaimer
Warning: The Acu-Balls are not intended to treat disease, support or sustain human life, or to prevent impairment of human health; for self-education and research purposes only. Notice: Acu-balls are offered only as experimental devices and in order to reduce cost, FDA approval has not been applied for. Therefore, these products have not been evaluated by the Food and Drug Administration. They are provided for informational use only, and are not to be used as a medical device for use in the cure, mitigation, treatment, or prevention of any disease and can only be sold as consumer products for non-medical use. They are not intended to replace the advice of a licensed professional. These products are not intended to diagnose, treat, cure or prevent any disease, disorder, pain, injury, deformity, or physical or mental condition. All information is for educational purposes only. Consult a licensed health professional before attempting any self health program. This notice is required by the Federal Food, Drug and Cosmetic Act.
Customer Reviews
Love these
I received these 2 weeks ago and use them while watching TV. I find they are very effective!
Review
I ordered the product ( therapy balls ) 23 March. and after a lot of confusions with the customs authorities and post office here in Finland I finally got my ordered product today ( 24 April ).Everything fine and I will during the weeks to come find out together with my wife if it will give the expected results. We got the "hint" for this product from a Schaman ( from Lappland ) and had a try before ordering. Best regards
Review
The spikes are quite sharp and seem to improve blood circulation and relief pain. Especially from repetitive movements. They look good, even though you're not going to use it that much you can have it somewhere on display in your home, like most people use those baoding balls. If you suffer from some pains in your hand, wrist and arm, it is probably going to do you good. You can even roll it with one hand on your other arm
Review
I love these and they really work and massage your palms well. You can also use them to massage your arms, legs, feet, back, etc. You can hold one ball in between your palms and manoeuvre the ball with both palms at the same time, also moving one of the balls over different parts of your body. It does not take much force and you will feel the massaging effects of the balls immediately. For the price, these are great. I dropped them on the floor accidentally and they stayed in tact, very sturdy. I am very pleased with these and it is something I will use everyday. Have fun with them and use them on different points on your body to relieve the stress. Their purpose is to increase blood flow so that a healing can take place and you can really feel them work. I can't wait to experience the prolonged benefits of using them.
Review
This is a great product. I work with my hands everyday, and it is great to have this with me so I can relax my hands. It massages my hands and I don't get as much cramps in my hands as before. I also sometimes put one in each hand and squeeze on to the ball. Have the spikes poke my palm and it feels really good on my hands. Hurts a little, but afterwards it releases any stress I have.
Frequently Asked Questions( FAQ )
Click here to view Questions and Answers