---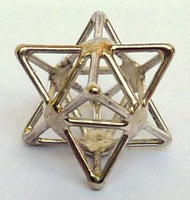 Sale
Protects against magnetic fields, eg. mobile phones.
The Tantric Star is created by combining an ascending tetrahedron with a descending tetrahedron. The resulting shape from the exterior is known as the geometric form of fire, whereas internally, an octahedral chamber is created representing the geometric form of air.
These interlocking tetrahedrons are also known as the Merkaba.
Through expressing the union of the male and female potencies, they represent the building blocks of all manifest creation. The central octahedron forms the alchemical component of Prana or breath shared by these Divine Lovers. The Tantric Star is at the core of the atomic structure of all matter in the universe and functions as a 3 dimensional Mandala; a mechanism which connects us to our center point, the border between the infinite in and the infinite out and a star gate into the matrix of manifest reality.
| | | | |
| --- | --- | --- | --- |
| Material | Color | Dimension (in/cm) | Weight (oz/g) |
| Sterling Silver | Silver | Diameter: 0.6 / 1.5 | 0.1 / 2.6 |
Customer Reviews
Good
Very happy with the unit they sent me.
Frequently Asked Questions( FAQ )
Click here to view Questions and Answers