---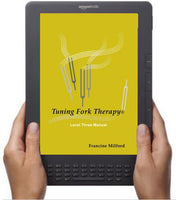 Tuning Fork Therapy® Level Three shows practitioners how to use tuning forks on various points of the body to help with healing a variety of ailments such as pain, stress and stomach problems. Manual includes the Five Element meditations, Points for Accessing your Energy Body and how to use the Angelic tuning fork set in your practice.
Covers the following topics;
Aura Smoothing Techniques
Intro to Acupressure Points of the body
The twenty major acupressure points of the body
How to use Tuning Forks on the 20 major Acupressure points of the body
Points on the back
Charts
The Five Elements
The Elemental Body Technique
The Laser Technique
Accessing your Energy Body
Protocols for the acupressure points
Working with the Angel Tuning Forks
| | | | | |
| --- | --- | --- | --- | --- |
| Format | File Size | Pages | Printable? | Copyright |
| Comes as a .pdf file. Any software such as Adobe Acrobat Reader can be used to read the file. | 4.08 Mb | 128 | Yes | Francine Milford (Standard Copyright License) |
After your order has been authorized and approved, your eBook will be emailed to you
Customer Reviews
Happy
This really helped me in mastering the forks.
Frequently Asked Questions( FAQ )
Click here to view Questions and Answers