---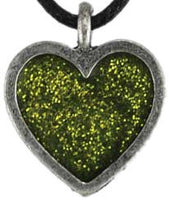 Sale
This amulet is charged with energy of love and illumination, making it a wonderful help in getting the attention of the one you desire and winning their affection.
Crafted of the highest quality lead-free pewter and sparkling, brightly colored glass, this 3/4" long amulet is fashioned into the shape of a joyous heart, helping it contain and radiate the magic you'll wish to hold close.
This amulet comes with a 30" cord with which to wear it, and comes in various colors (randomly selected).
This amulet has been made in the USA.
Material
Color
Dimension (in/cm)
Weight (oz/g)
Pewter Casing
Color Supplied Varies
 (e.g., red, pink, blue green)
0.7 x 0.9 / 1.9 x 2.2
0.1 / 2
Customer Reviews
Nice
Very happy with this item!
Frequently Asked Questions( FAQ )
Click here to view Questions and Answers