---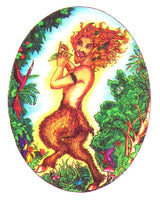 Sale
The ancient horned god from Greece (who was later incorrectly confused with the devil, a Christian concept) consort of the fertile goddess plays in the forest. He embodies the wilderness and passion of the natural world, i all its beauty and sexuality. With the lower half of his body being that of a goat, he symbolizes balance of our human and animal natures.
Measures 4" x 4.5" in size.
Artwork by Amara Karuna
Customer Reviews
Looks Good
Very happy with my purchase.
Frequently Asked Questions( FAQ )
Click here to view Questions and Answers