---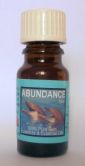 Blended Abundance Essence/Vetiver & Tuberose Oils
"Abundance" is a bounty of joyful energy. Assists in attracting an abundance of positive energy & connecting you with spiritual guidance. Warming and energising in all aspects of life, this blend assists in personal illumination, inspiration & freedom. "Abundance" assists in the manifestation of opportunities, and relaxes the mind, ordering thoughts and centering the mental processes. Opens the heart; attracts positive energy & abundance; clears frustration; promotes feelings of freedom & upliftment; energises all aspects of personal illumination; softens & opens the mind to new possibilities. Perfect anytime you need a boost of energy or an increase in abundance.
Click here to view Methods of Using the Gem Essence Essential Oil Blends.
Customer Reviews
Abundance
I am hoping that burning this oil brings abundance into my life. Smells and feels good.
Frequently Asked Questions( FAQ )
Click here to view Questions and Answers