---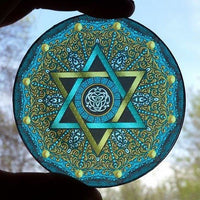 This is a very powerful and unique disc in that it has multiple healing properties, depending on the circumstance and what is needed. This disc is all about transformation and manifestation. What makes it unique are the deep roots that it has in both the physical and spiritual realm. This disc is ideal for people that are looking to transform their physical world by utilizing manifestation and Law of Attraction concepts. Design created by Lily A. Seidel.
Size: 3 inch diameter.
Customer Reviews
Nice
A nice disc - looks good held up to the light!
Frequently Asked Questions( FAQ )
Click here to view Questions and Answers