---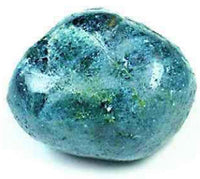 The Weight Loss Stone
It has often been said, before you can change something, you must accept it as it is. This is very true for most people where excess weight is an issue. An Apatite gemstone crystal is a multi-talented gemstone helping us attune to our inner selves and accept the healing, communication, balancing and teaching it has to offer.
Apatite gemstone is perfect for those with weight problems for it not only helps in appetite suppression, but allows you to look within and see the truths within ourselves. This is often required in a quest for weight loss so you can get to the root cause of overeating.
Apatite Gemstone Healing and Metaphysical Meanings
The perfect gemstone for use on any of the chakras since it can both stimulate under activity and calm over activity and clear congestions in any of the chakras.
Apatite gemstone crystal helps in the development of psychic abilities and helps you attune your mind, body and soul to the spiritual forces that run throughout the universe.
Apatite gemstone helps bones to heal faster and stronger. It helps your body absorb calcium from the foods you eat, which helps to keep bones and teeth strong.
To help ease the pain of arthritis, wrap the affected joint in an elastic bandage allowing it to hold one of more stones against the affected joint. The apatite gemstone can help heal the pain and heal the joint faster.
To help lower high blood pressure, wear an apatite gemstone so it hangs near the heart. Wearing one on a chain is fine or if all else fails, pin a stone to the inside of your shirt.
An apatite gemstone is a great gift for anyone in the healthcare industry. It is often hard for healthcare workers to find the right words to say to their patients and these crystals are known for helping you find the life lesson meant to be learned from the situation and to express it to the patient in a way that helps them the most in their time of need.
If you recognize within you the tendency to let your emotions rule rather than logic, especially in emergency type situations, apatite gemstone crystals could be your solution. This fabulous gemstone will allow calm to prevail giving you the time and ability to let logic rule in the situation.
The perfect stone for students of all age groups because apatite gemstones help you to not just "know" the lessons but to experience them, making them more real and rememberable.
Wear one or more apatite crystal while doing any sort of creative work. It helps you to connect with your creative center and create spectacular works.
Does shyness or doubt prevent you from enjoying yourself at parties or in other social situations? An apatite gemstone can give you the confidence to attempt contact with others and give you the feeling of security you need to shine at your best. Add in how this gemstone helps keep everyone in harmony and it becomes a powerhouse for anyone that is shy.
To increase your ability to receive visions of the future, meditate with an apatite gemstone resting on your 3rd eye chakras (slightly above and between the eyebrows). Blue or purple colored apatite gemstones work best for this.
Need a little extra motivation to get the job done? A gold or red apatite gemstone held during meditation can help you keep your mind focused on the subject at hand giving you the desire to keep working till completion.
Create an elixir by placing one or more apatite gemstones in a glass container of water and allow it to sit outdoors overnight, preferable under a full moon. This elixir can be drank to help strengthen bones and heal and prevent joint pain.
Size (mm): 26 - 30 mm (width, thickness, shape and color does vary and is not necessarily the same as the crystal shown in the picture).
Weight (g): 14 - 24g
| | | | |
| --- | --- | --- | --- |
| Vibrates to number | Astrological Signs | Planet | Chakra |
| 9 | Gemini | -- | Throat, Solar Plexus |
Customer Reviews
Good
Looks and feels good!
Frequently Asked Questions( FAQ )
Click here to view Questions and Answers