---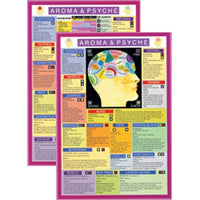 Sale
Learn how aromas and fragrances affect your mind and mood and how to use Essential Oils to affect change the easy way with the Aroma and Psyche Mini Chart.
Aromatherapy is an Ancient alternative medicine which uses plant materials and other aromatic compounds to enhance the mind, mood, cognitive function and health. This handy Mini Chart introduces 33 Essential Oils and their therapeutic potential.
This concise and useful Mini Chart shows 8 Essential areas:
1. Examines the 33 Essential Oils
2. Identifies the part of the brain that is stimulated by each Essential Oil with an illustration
3. Describes the fragrance eg soft, rose like, fruity
4. Details the 3 the Notes and identifies which Note is applicable to each Essential Oil
5. States the effects of each Essential Oil on the or Psyche
6. Outlines the elements associated with each Essential Oil
7. Lists the best method of how to use the Essential Oil eg massage, bath, burner
8. And more . . .
A very useful tool for anyone who is interested or wants to learn about Aroma and Psyche.
Printed and protection coated on both sides.
Size: 16cm x 23.5cm
Note: The low resolution image shown has been purposely provided to protect copyright content of the chart. The chart you will receive is in an easy to read high resolution format.
Frequently Asked Questions( FAQ )
Click here to view Questions and Answers