---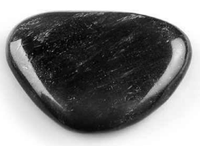 Astrophyllite means Star Sheet and is probably named after the interwoven star shapes that this crystal sometimes forms. It is a dark coloured stone that often contains sparkling inclusions.

Astrophyllite helps you to see what you no longer need in your life and allows you to let go of it. It encourages you to see your full potential and to appreciate that as one door closes another opens.

Astrophyllite is said to aid out-of-body experiences and to act as a guide and protector while you are experiencing them. It is also said to help you to become more aware of other people's needs and to become more sensitive to touch and perception. For this reason it is an excellent stone for those undergoing training in massage or acupressure.

In healing Astrophyllite is said to be of benefit to the reproductive and hormonal systems and to help with PMS and the menopause.

When used on the throat chakra it projects our soul song into the world around us, shifting our own world in response to this note. In this way it can bring a truer sense of who we are into every aspect of our lives and bring the material more into line with the spiritual. Also works well on couples as if used together it can allow both to see what is at the deepest (or highest) part of the other - virtually see one another's souls. Very good for use with astrology as it links the energy of the stars with this plane and can help people who are trying to communicate and/or understand astrological elements.
Can also be used on the second chakra where it allows us to align with the original blueprint or soul song. So use on 2nd will align with the soul song and use on the throat will communicate that outwards. Alignment with the blueprint is perhaps one of its most important healing tasks - many things happen, particularly traumas which can misalign us with our "divine path". Trauma in particular can create "broken paths" which in turn can create disease and a sense of separation or aimlessness. Astrophyllite can work on this to re-align our lives and bodies to that pathway - bring it back to the way and intent of the soul.
On the throat where the blueprint is communicated outward and we sing or live our soul song then this energy can clean and clear personal spaces - getting rid of discordant energy and bringing it into alignment with ourselves.
Used on the crown chakra it can link us to the stars - to the greater light. It asks us to consider our legacy - what are we leaving behind for those who will come after us. It asks us to consider our every activity and action and consider it within a broader context - not only how it effects others but how it will effect the future.
Size (mm): 20 - 27mm (width, thickness, shape and color does vary and is not necessarily the same as the crystal shown in the picture).
Weight (g): 7 - 24g
Customer Reviews
Good
Very happy with this item!
Frequently Asked Questions( FAQ )
Click here to view Questions and Answers