---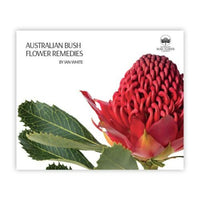 Ian White's New Australian Bush Flower Remedies Reference Book has been updated to include stunning colour photographs of all 69 Australian Bush Essence Flowers in their bush setting, photographed by Ian White on his essence making journeys throughout Australia. Each image reflects the vibrancy and potency of each Essence, whilst also opening up many new ways of healing with the Australian Bush Flower Essences.
This New Reference Book with the colour photographs will help you to deeply understand the clues nature has given to the healing qualities of each flower by its shape and colour - what ancient healers termed the 'Doctrine of Signatures'. An amazing tool for both practitioners and patients to help decide on which Essences to choose.
NEW REFERENCE BOOK BY IAN WHITE
Illustrations & colour photos of each flower
Covers the 69 Single Bush Essences
Covers the 21 Combination Remedy Essences
Covers the 6 Parenting & Childcare Remedy Essences
This book is available individually and is also included as a complimentary addition in the Australian Bush Flower Essence Stock Kit.
Customer Reviews
Happy
I bought this as I lost my previous copy. It came quickly and well packaged.
Frequently Asked Questions( FAQ )
Click here to view Questions and Answers