---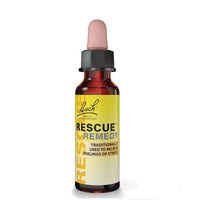 Sale
Rescue remedy is a formula which consists of 5 individual Bach Flower Remedies, which Dr Edward Bach chose to call "Rescue Remedy". He saved a fisherman's life in 1930 with this formula.
It is used to treat the pre or post emotional effect that a sufferer may experience through shock, great fear or terror, panic, severe mental stress and tension, a feeling of desperation or a numbed, bemused state of mind.
Rescue Remedy has been used successfully on stressful days where we suffer from impatience, tension and pressure. It has also been used successfully with children to stop a tantrum, before a speech or job interview.
Rescue Remedy helps us relax, get focused and get the needed calmness.
Many people chose to carry Rescue Remedy in their purse, at the office, in the car or in the diaper bag. You never know when you need it.
Ingredients:
Grape alcohol (approx. 27% v/v); flower extract of rock rose, impatiens, clematis, star of Bethlehem and cherry plum.
Methods of Dosage:
The stock concentrates issued will keep indefinitely. They can be taken by people of all ages - there is no danger of an over-dose or side effects, and should the wrong choice be made no harm will ensue. They will not be influenced by, nor will they effect any form of medicine prescribed to a person.
Animals and plants also benefit from this treatment.
Application
Place four drops directly underneath the tongue and hold for up to a minute before swallowing. Alternatively, add four drops to water and sip every 3 to 5 minutes, ensuring that you hold in your mouth for a moment before swallowing. Repeat as necessary.
If the patient is unconscious or unable to drink or swallow, rub the remedy directly from the concentrate bottle oin the lips, behind the ears, or on the wrists.
Customer Reviews
Excellent
Arrived in the mail safe and sound
Frequently Asked Questions( FAQ )
Click here to view Questions and Answers