---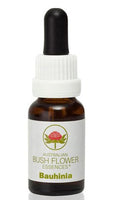 Sale
Bauhinia
Negative Condition:



• resistance to change
• rigidity
• reluctance

Positive Outcome:



• acceptance
• open mindedness
Made up near Geikie Gorge in the Kimberley's. This is for embracing new concepts and ideas. Especially if there is some hesitation or reluctance initially in coming to terms with these things - e.g., a new situation or idea or concept - even a person who annoys you or whom you dislike. A family of different nationality for example may move in as neighbours, you may not be racist but rather, have trouble accepting their different manner and customs.
Preparation of Dosage Bottles
Place seven (7) drops of Stock Essence into a 15ml to 30ml dropper bottle filled with 1/3 brandy and 2/3 purified water.
Customer Reviews
Excellent
I have always loved the ABFE
Frequently Asked Questions( FAQ )
Click here to view Questions and Answers