---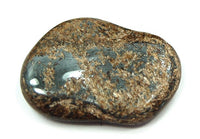 Bronzite is known as the "Stone of Focused Action" as well as the "Stone of Courtesy". Bronzite promotes certainty and control, encourages us to take control over our own actions and enables us to be sure about what it is that we want in our lives.
Bronzite is a protective, grounding crystal that is used to restore harmony and self confidence in situations where you feel overwhelmed or powerless. It is said to strengthens non-judgmental discernment, increases self esteem, beneficial for masculine energy, inspires courtesy, help, acceptance and alleviates indecision and doubt by promoting focused action and courtesy.
Bronzite can alleviate the nervous anxiety that comes from new situations. A grounding stone, Bronzite also instills a sense of "stillness", allowing you to be more objective, seeing the bigger picture, and making a more informed decision. Bronzite also enhances creativity and forward-thinking.  It can also dispel negative energy, especially for those under "psychic attack", sending the negativity back to its sender.
Physically, Bronzite eases stress, warms the extremities, helps with digestion, and supports healthy kidney function. It also balances the body's pH balance and enhances the assimilation of iron.
Size (mm): 15 - 25 mm (width, thickness, shape and color does vary and is not necessarily the same as the crystal shown in the picture).
Weight (g): 16 - 20g
Customer Reviews
Good
Happy with the quality oif the stone I received.
Frequently Asked Questions( FAQ )
Click here to view Questions and Answers