---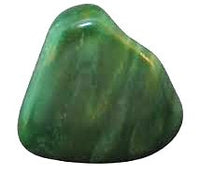 Sale
Buddstone also known as African Jade, as this is where it is often found.
Dark green in color, with a slight mottle effect, Buddstone is thought to increase stamina and bring patience to a situation, especially where children and elderly are concerned. It promotes an over all feeling of well being, and helps to relieve headache, migraine and period pain.
Buddstone also aligns the earthly senses. It improves hearing, and intuition on an earthly level. Good for business, deal making, positives decisions and action. It lightens the physical body and removes subtle negative energies that can cling to a person and impede their movement.
Size (mm): 22 - 30 mm (width, thickness, shape and color does vary and is not necessarily the same as the crystal shown in the picture).
Weight (g): 10 - 19g
| | | |
| --- | --- | --- |
| Vibrates to number | Astrological Signs | Chakra |
| 5 | Virgo | Heart |
Customer Reviews
Great
A good stone with an interesting feel about it!
Frequently Asked Questions( FAQ )
Click here to view Questions and Answers