---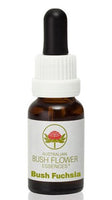 Sale
Bush Fuchsia
Negative Condition:



• switched off
• nervousness about public speaking
• ignoring 'gut' feelings
• clumsy

Positive Outcome:



• courage to speak out
• clarity
• in touch with intuition
• integration of information
• integration of male and female aspects
The channelling of this remedy was a collaborative process between myself and my wife, Kristin. The remedy is unsurpassed for resolving learning problems. It integrates the left and right hemispheres of the brain. It's for stutterers, and will give people courage and clarity in public speaking as well as the ability to speak out about their own convictions. The remedy also helps develop the intuitive nature and helps a person listen to and trust their gut feeling.
Preparation of Dosage Bottles

Place seven (7) drops of Stock Essence into a 15ml to 30ml dropper bottle filled with 1/3 brandy and 2/3 purified water.
Customer Reviews
Helped my Son
Very happy with this remedy. It helped my son in working through the issues that he had.
Frequently Asked Questions( FAQ )
Click here to view Questions and Answers