---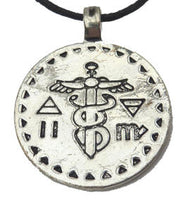 Intelligence
The caduceus was first recorded in Greek Mythology as the stff carried by Hermes, the god of Commerce and Travel.
The same staff was also borne by heralds in general, for example by Iris, the messenger of Hera. It is a short staff entwined by two serpents, sometimes surmounted by wings.
The caduceus is a recognized symbol of commerce and negotiation, two realms in which balanced exchange and reciprocity are recognized as ideals. This association is ancient, and consistent from the Classical period to modern times. The caduceus is also used as a symbol representing printing, again by extension of the attributes of Mercury (in this case associated with writing and eloquence). 
Rod of Asclepius

The caduceus is sometimes mistakenly used as a symbol of medicine and/or medical practice, especially in North America, because of widespread confusion with the traditional medical symbol, the rod of Asclepius, which has only a single snake and no wings. 

Comes supplied with a black cord. 

| | |
| --- | --- |
| Dimension (in/cm) | Weight (oz/g) |
|  Diameter: 1.1" / 2.9 cm | 0.5 / 15 (incl packaging) |
Customer Reviews
Good
Very happy with this item!
Frequently Asked Questions( FAQ )
Click here to view Questions and Answers