---
Neutralizes the harmful electrical field from high currents generated in a car's auto electrical system making you less fatigued while driving
To Operate:  Simply plug the Car EMR Harmonizer into the car's USB port on the dash or other USB port, whichever is more convenient.  If your car is an older model and does NOT have a USB port, purchase a good quality USB charger from any reputable electronics store and plug in the USB Stick Car Harmonizer.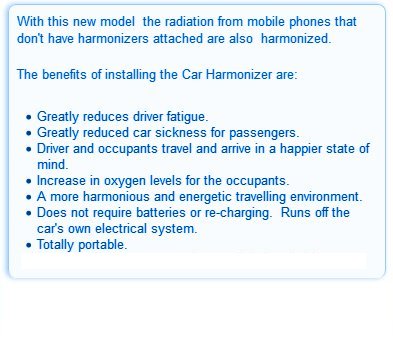 The Car EMR Harmonizer is a totally portable Electromagnetic Radiation neutralizer which eliminates all noxious EMR energies caused by the cars electrical system, and also eliminates the depleting effects of other outside noxious energies such as Earth Magnetic Grid lines while driving.
The EMR field produced by the cars electrical system totally engulfs all
occupants, placing them in a dangerous Positive Ion field which deprives its occupants of oxygen and depletes them of energy and causes nausea and fatigue. Concentration levels for the driver area also affected by these noxious energies.
The frequency of Earth Magnetic Grid lines that pass under the car while driving also has as debilitating affect on the occupants which exacerbates the already noxious energies within the car.
The Harmonizer works similar to the Geoclense for buildings. One has to feel the very tangible difference in driving experience to appreciate just how well this device works!!
The benefits of installing the Harmonizer are;
Greatly reduces driver fatigue
Greatly Reduced car sickness for passengers
Driver and occupants travel and arrive in a happier state of mind
Increase in oxygen levels for the occupants
A more harmonious and energetic travelling environment
The harmonizer does not require batteries or re-charging. It runs off the car's own electrical system and is totally portable.
Recent modifications in the technology used to produce these devices has made them effectively stand alone. When you drive your car using the car harmonizer, you are effectively driving in a protective bubble where you are protected from all forms of Geopathic stress.
Harmonizes radiation from mobile phone for cars fitted with in car hands free kits.
Car Harmonizer
Dimension (cm)
Weight (oz/g)
4.5 x 3.0
0.7 / 20
Customer Reviews
Works really well
I am a truck driver and having one of these really helps me feel alert for long trips.
Frequently Asked Questions( FAQ )
Click here to view Questions and Answers