---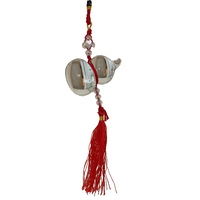 Sale
The Clear Wu Lou Feng Shui Hanging is an adorable piece, made from good quality man-made crystal. It is accented with a creative knot and finished off with red tassels to increase the flow of vital energy.

Wu Lou is a symbol of longevity which also brings an abundance of divine blessings. Also known as the bottle gourd or the "calabash", Wu Lou is a powerful traditional symbol of longevity, good health, prosperity, and an abundance of blessings. The shape of a Wu Lou is believed to be a representation of Heaven and Earth united in miniature. Displaying a Wu Lou in and around the home is a good thing to have to enhance one's Feng Shui.

Hang it in the rearview mirror of your car, near the entrances of rooms, or beside your bed. It will ensure good health and good luck is always by your side. The Clear Crystal Wulou Feng Shui Hanging will absorb negative Chi and prevent bad things and harm from happening to you.
Frequently Asked Questions( FAQ )
Click here to view Questions and Answers