---
Multi-Purpose Mixture - All 5 Gases Blended
20% Helium; 20% Argon; 20% Neon; 20% Krypton; 20% Xenon @ 500 psi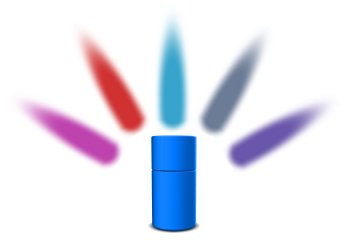 Click here to read about about the theory and use of the inert gas devices in general as well as realistic dimensions of the inert gas and magnetic field.
---
Finding it hard to determine what the right inert gas device is for you?
One can use 2 or more of each of the pure gas devices or combine different ones together as in the suggested mixtures shown on this page. Jon Fox from Hilarion.com recommends individuals sensitive to energies to start with the pure or nearly pure inert gas devices one at a time until the energy becomes more familiar. We recommend that you start with the Omnidirectional Inert Gas Beaming Device #11 as it is probably the most effective combination for dealing with many issues at once. It contains the argon/krypton blend for releasing and dissolving negative thought-forms. This is a favorite of many; when using this it seems that ones world is much happier place." We believe as the thought forms have been removed from the gases and the magnetics greatly improved that Omnidirectional Inert Gas Beaming Device #11 is suitable for all people. It contains a blend of 20% Xenon (for tissue regeneration and regrowth), 20% Argon and 20% Krypton (to destroy negative thought form attachments, considered by some as the basis to some forms of disease (as discussed in the Argon article), 20% Helium (to assist with sleep), and 20% Neon for lower chakra issues). 
| | | | |
| --- | --- | --- | --- |
| Container Material | Color | Dimension (cm) | Empty Container Weight (g) |
| Aluminium (Anodized) and Brass | Blue | Height 12; Diameter 5.8 | 829 |
Click here for instructions on using the inert gas devices.
Frequently Asked Questions( FAQ )
Click here to view Questions and Answers