---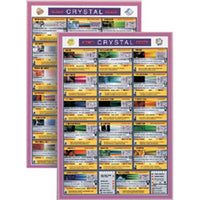 Sale
The Crystals and Gemstones Mini Chart lists 35 common crystals and gemstones, and is ideal for the field worker, therapists or the home enthusiast.

The chart presents the following information on each crystal;

Name and a picture
Name origin
Chemical composition
Crystalline structure
Hardness (using the Mohs hardness scale)
Opaqueness
Chakra association
Element association
General information
Global occurrence
Esoteric keyword
General esoteric comments

The picture below is an extract from the chart illustrating how the above format is revealed for the crystal malachite.

In the same way, each crystal is conveniently presented, filling both sides of the chart with the 35 crystals.

The chart is protected on both sides with a plastic coating for durability and long term use.

 

 

Sample Extract from the Crystals and Gemstones Mini Chart

The crystals that are presented on the chart include the following;

Agate
Alexandrite
Amber
Amethyst
Aquamarine
Aventurine
Azurite
Bloodstone
Carnelian

Chrysoprase
Diamond
Emerald
Garnet
Jadeite
Jasper
Lapis Lazuli
Malachite
Moonstone

Opal
Peridot
Quartz
Rhodochrosite
Rhodonite
Rose Quartz
Ruby
Rutilated Quartz
Sapphire

Selenite
Smoky Quartz
Sodalite
Tiger's Eye
Topaz
Tourmaline
Turquoise
Zircon

The Crystals and Gemstones Mini Chart measures 9.25 x 6.25" (235 x 160mm) in size. Click here to view the crystals and gemstones decoder.

Note: The low resolution image shown has been purposely provided to protect copyright content of the chart. The chart you will receive is in an easy to read high resolution format.
Customer Reviews
Good
Very happy with this item!
Frequently Asked Questions( FAQ )
Click here to view Questions and Answers