---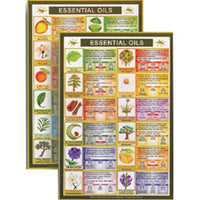 Sale
The Essential Oils Mini Chart presents 24 of the most important essential oils, revealing the following information on each oil;
Plant Name and Illustration
Latin Name
Properties
Nature
How to use
Specific Information
Use of
Comments
In the same way, each essential oil is conveniently presented, filling both sides of the chart with the 24 essential oils. The chart is protected with a plastic coating for durability and long term use.
The essential oils that are presented on the chart include the following;
Basil
Bergamot
Cedarwood
Chamomile
Cinnamon
Clary Sage

Lemon
Lime
Neroli
Nutmeg
Orange
Patchouli

Peppermint
Rose
Rosemary
Sandalwood
Tea Tree
Ylang Ylang
The Essential Oils Mini Chart measures 9.25 x 6.25" (235 x 160mm) in size
Note: The low resolution image shown has been purposely provided to protect copyright content of the chart. The chart you will receive is in an easy to read high resolution format.
Customer Reviews
Good
Such a good reference to have on hand. Full of good info.
Frequently Asked Questions( FAQ )
Click here to view Questions and Answers