---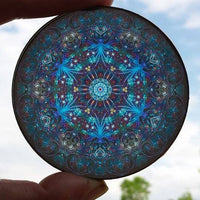 Imagine being able to give your brain, your mind a nice relaxing massage and a soak in an Epsom salt bath. That is one way to describe this disc. This disc takes into account the difficulties of physical life; the stress, the pressure, the grief, everything and it gently cleanses your mind-body-spirit. This is a great disc to use when you want to nourish and refresh yourself. As you use the disc more and more you will notice that it helps to strengthen the connection between you and spirit. Design created by Lily A. Seidel.
Size: 3 inch diameter.
Customer Reviews
Very Happy ...
Very happy with this item!
Frequently Asked Questions( FAQ )
Click here to view Questions and Answers